About ASCIA anaphylaxis e-training
ASCIA anaphylaxis e-training courses for schools and early childhood education/care was first launched in March 2010 (Version 1.0) to provide people with a training option where face to face training is not possible (or feasible), or as a refresher, or for interim training whilst waiting for face to face training. ASCIA anaphylaxis e-training for first aid (community) should be undertaken by the broader community such as parents, friends, carers or patients themselves; sporting clubs, playgroups and workplaces.
Note:
It is essential that this course is completed in conjunction with practice using adrenaline autoinjector trainer devices. To order adrenaline autoinjector trainer devices contact your national patient support organisation: Allergy & Anaphylaxis Australia www.allergyfacts.org.au
Any adult may sign the Certificate as long as they have seen you actually use the adrenaline autoinjector trainer device and have referred to the ASCIA Action Plan for Anaphylaxis available at www.allergy.org.au/anaphylaxis.
Updates:
The course has been updated in September 2021 (Version 8.0) to include the following:

Updated and new ASCIA Action and First Aid Plans.
New infographics and animations to make the training more visual and interactive.
Instructions for two brands of adrenaline (epinephrine) injectors, EpiPen® and Anapen® (available on the PBS September 2021).
A certificate that confirms successful course completion, which requires participants to obtain 100% for the Final Assessment or Quiz.
The course has been updated in July 2018 (Version 6.3) to include new generic versions of ASCIA Action Plans for Anaphylaxis. These plans have been developed for use with any brand of adrenaline (epinephrine) autoinjector available in Australia and New Zealand.
The course was previously updated in June 2017 (Version 6.2) to incorporate updated ASCIA Action Plans and changes to EpiPen® and EpiPen®Jr adrenaline (epinephrine) autoinjectors. The devices have not changed, just the instructions on the label, which now include:
Reduced injection time from 10 to 3 seconds – this is based on research confirming efficacy and delivery of adrenaline through the 3 second delivery.
Removal of the massage step after the injection – this has been found to reduce the risk of tissue irritation.
EpiPen®s with a 10 second label can continue to be used and should not be replaced unless they have been used, are just about to expire or have expired.
All EpiPen®s should now be held in place for 3 seconds, regardless of the instructions on the label. However, if they are held for 10 seconds it will not affect the way that the adrenaline works.
ASCIA anaphylaxis e-training WA has been developed in December 2016. It is based on ASCIA anaphylaxis e-training for schools in August 2016 (Version 6.1).
The early childhood education/care version of the course has been approved by the Australian Children's Education and Care Quality Authority (ACECQA) for the purposes of the Education and Care Services National Law, and published in accordance with regulation 137(1)(e) of the Education and Care Services Regulations.
Course instructions:
Registration is on an individual basis. A username and password must be obtained from the e-training website registration process to participate in a course.
Course participants should read each module carefully then complete the quiz. You must get each question correct before you can move onto the next module (feedback will be provided after answering each question correctly).
Modules may only be completed in order.
Upon successful completion of the course (by achieving at least 80% in the final assessment module quiz) each participant will have access to a Certificate of Completion. The certificate is available as a PDF file for print or saving as required. Each certificate contains a unique QR code that verifies the participant and result.
The course may be undertaken at the participant's own pace but it is recommended the modules are completed within a two week period.
Example of certificate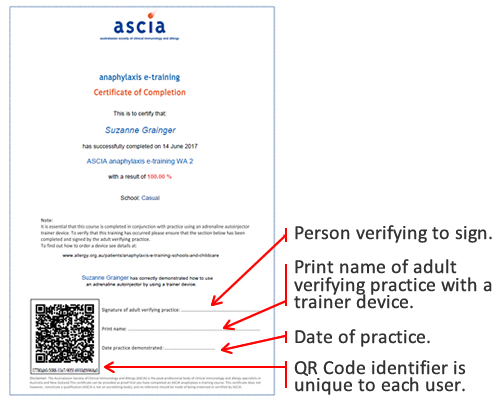 Last modified: Wednesday, 1 September 2021, 2:20 PM